Oakville Hydro Launches Green Button to Help Local Energy Customers Save Money
Date posted
April 20, 2023
Oakville Hydro Launches Green Button to Help Local Energy Customers Save Money
On 20 April 2023, Ontario-based utility Oakville Hydro announced the launch of its new Green Button platform that will allow local families and businesses to track and control their energy use and save money on monthly utility bills. The implementation of the Green Button standard is part of the Ontario government's plan to provide consumers with more ways to keep costs down, save money and take control of their energy bills.
"Families and businesses want to be in the driver's seat when it comes to their energy bills," said Todd Smith, Minister of Energy, Ontario, who joined Oakville Hydro for the launch. "Green Button is part of our commitment to give consumers more choice when it comes to their energy use and will enable easy, quick and safe access to their consumption data through smartphones or computer apps so they can find customized tips to reduce energy use or switch electricity price plans to save money," he added.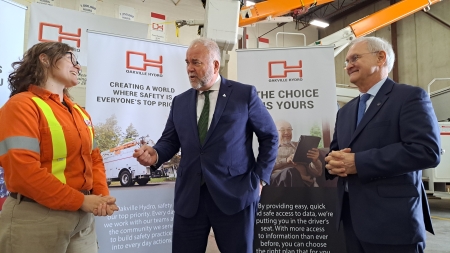 "We're very excited to announce the launch of the Green Button in Oakville," said Rob Lister, President and CEO, Oakville Hydro. "By providing access to energy usage data in a standard and more user-friendly format, our customers will be able to choose the solution that best fits their needs to manage their electricity usage."
"The launch of the Green Button will provide Oakville residents and local businesses in Oakville with opportunities to conserve energy while saving money on their monthly electricity bills," said Rob Burton, Mayor, Oakville. "The town is on target to meet our 2030 targets to reduce our carbon emissions and reduce our energy use through energy conservation measures. The Town will continue to work with residents, businesses, Oakville Hydro and all levels of government to improve community energy efficiency in Oakville."
"The launch of the Green Button is an example of the many collaborations that are taking place across the electricity industry," said Scott Mudie, EVP, Chief Energy Transformation Officer, Oakville Hydro. "We want to thank London Hydro for their support in helping us launch the MyOakvilleHydro customer portal."
Oakville Hydro customers can access the Green Button option through the upgraded MyOakvilleHydro Account portal.
The Green Button Alliance congratulates Oakville Hydro on the launch of its Green Button implementation.
# # #