Newsletter | February 2022
Date posted
February 2, 2022
Meet Our New Members |
---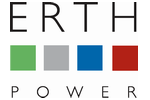 ---
News & Updates |
---

Ontario's Electricity and Natural Gas Utilities Provincewide to Provide Green Button Energy Data to Customers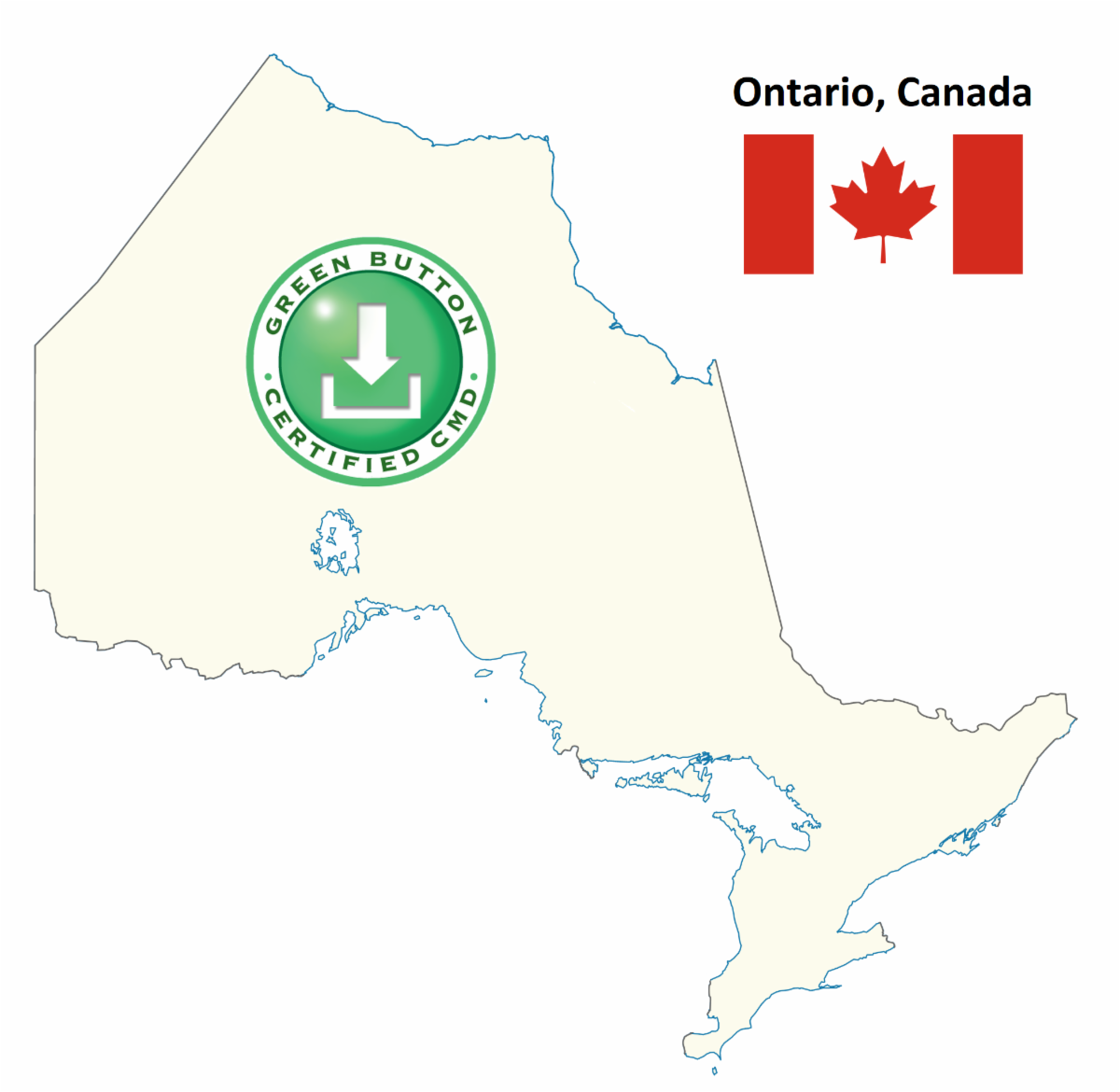 On 01 November, the government of Ontario, Canada announced it is requiring nearly all regulated electricity and natural gas utilities provincewide to provide standards-based Green Button energy data to their customers within twenty-four months, by November 2023. Ontario's Green Button requirement went into effect on 01 November, following the passage of Ontario Regulation 633/21: Energy Data, which was filed on 02 September, 2021. The regulation applies to 60+ utilities, and covers approximately 5 million electric meters and approximately 3.5 million gas meters.

Ontario is the first province to empower energy consumers with easy, digital access to Green Button -standardized energy data and the ability to authorize to securely share those data with third-parties of their choosing, helping Ontarians to make informed decisions about their energy consumption and manage their energy costs.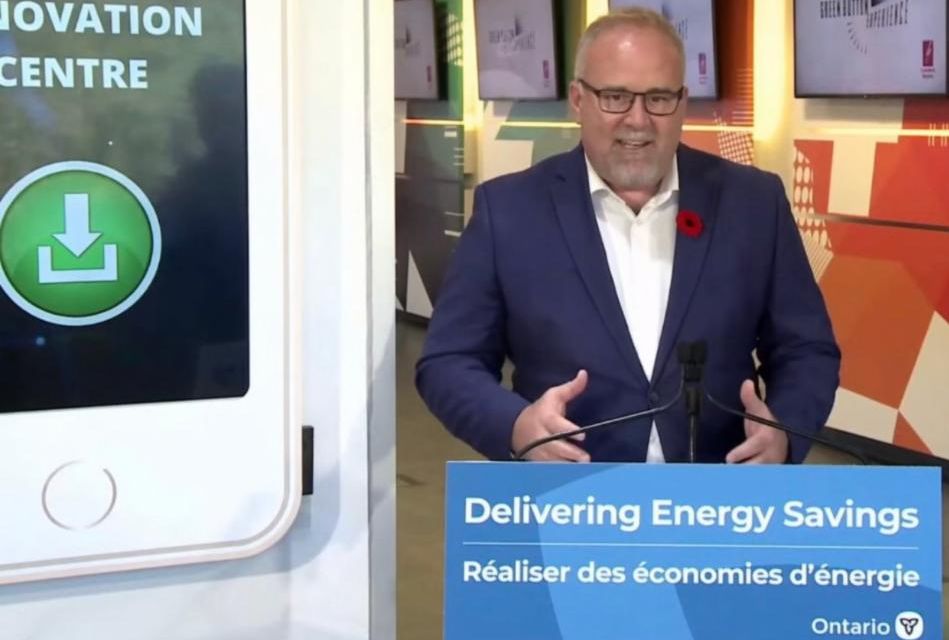 Ontario's Minister of Energy, Todd Smith, made the announcement at GBA member London Hydro's Green Button Innovation Centre in London, Ontario, where he was joined by the Mayor of London, Ed Holder; the CEO of London Hydro, Vinay Sharma along with members of its Board; and representatives from Enbridge Gas; Festival Hydro; ENWIN Utilities; Oakville Hydro; University of Western Ontario; Ontario's Electricity Distributors Association (EDA); and the Atmospheric Fund, among others. Among the benefits of utility customer access to standardized energy data, Minister Smith noted studies have found that easy access to Green Button -standardized energy data can help consumers make informed decisions and achieve energy savings of up to 18 percent. Mayor Holder noted that Green Button platforms will help utilities and their customers gain the benefits from the investment in smart meters, as well as help utilities to become more open by unlocking the value of these data. Sarah Van Der Paelt of GBA member Enbridge Gas shared the utility's support of Green Button and highlighted a current innovative pilot project—a hybrid heating system with smart controls—that leverages Green Button data provided by London Hydro.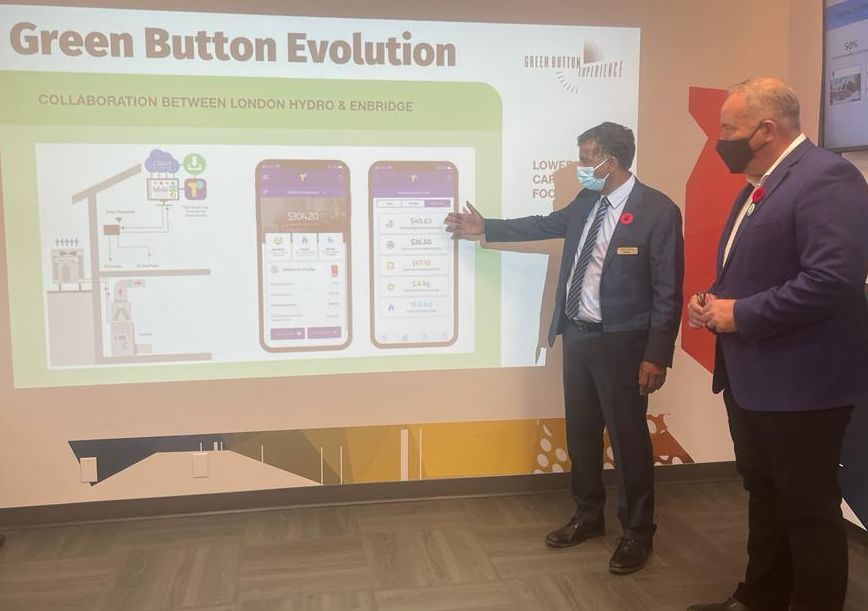 London Hydro has offered its customers access to their standards-based Green Button energy data since 2016. Of Ontario's Green Button regulation, London Hydro CEO Vinay Sharma commented, "The Green Button standard ushers utilities into the modern technology era of open utilities, increased customer choice, and uniform energy management services for the benefit of customers." He continued, "Indeed, Green Button will manifest the true benefits of smart meter systems for customers." Following the speakers' talks, Minister Smith and Syed Mir, CIO of London Hydro and Chair of the GBA toured the Green Button Innovation Centre to discuss Green Button-enabled customer successes and innovative grid-edge solutions in-development. Hear the Minister's announcement at London Hydro's Green Button Innovation Centre.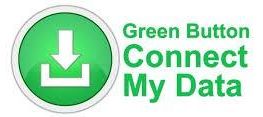 Ontario's new regulation requires Ontario utilities' Green Button Connect My Data implementations to be tested and Certified for compliance to the standard. Read the GBA's announcement for additional details.
Follow other current data-access proceedings by hovering over the "Happenings" tab on the Green Button Alliance's web site.
---
Member News & Updates |
---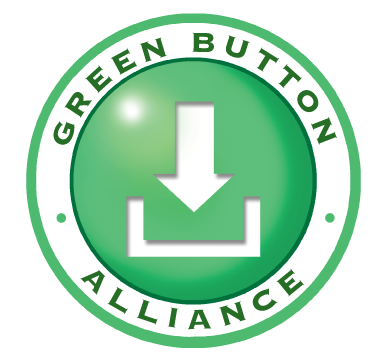 Green Button Alliance Announces Results of its
2022 Board of Directors' Election
On 01 November, the Green Button Alliance concluded its annual election in which its Participating Member companies voted to elect representatives to join its Board of Directors. The GBA welcomes Bill Pfister, Sr. Director, Business Analytics, Edison Electric Institute (EEI) who was elected to serve in a two-year seat (2022-2023) and Jeff Hendler, CEO, Logical Buildings who was re-elected to serve in a one-year seat (2022). James "Jay" Lewis, CEO, Big Data Energy Services was elected to a two-year seat in 2020 and will serve the second year of his 2021-2022 term. The GBA's newly-elected directors commenced their positions on GBA's Board of Directors on 01 January 2022.
GBA's Annual General Meeting Featured Green Button Policy Leaders, Advancements, and Member Solutions

The Green Button Alliance held its 2021 Annual General Meeting (AGM) online on 04 November. The meeting featured keynote talks by Usman Syed, Director, Conservation and Energy Efficiency at the Ontario Ministry of Energy and Donald M. Kreis, Consumer Advocate of New Hampshire; both of whom expertly discussed ground-breaking Green Button regulatory policy advancements in their respective regions. They were joined by speakers from the GBA's Board of Directors and staff who further educated attendees on new Green Button Connect My Data utility deployments, feature-rich Green Button applications and new Connect My Data integrations, industry collaborations, and much more.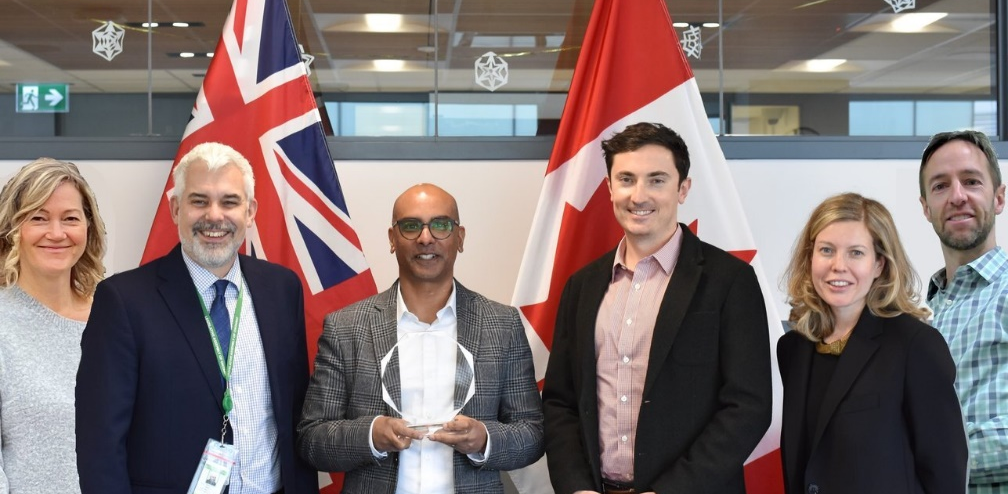 Highlights of the AGM included the GBA's presentation of two "2021 Energy Data Policy Leader" awards. The GBA recognized Usman Syed for his long-time vision and leadership in working to provide Ontarians with seamless, digital access to their energy usage data. Mr. Syed accepted the award on behalf of the team at the Ontario Ministry of Energy including (L-R): Kelly Brown, Stephen Rhodes, Usman Syed, Matthew Edwards, Emma Schwab-Pflug and Andrew Howse, for their outstanding and on-going work in guiding the province's Green Button initiative for the benefit of Ontarians.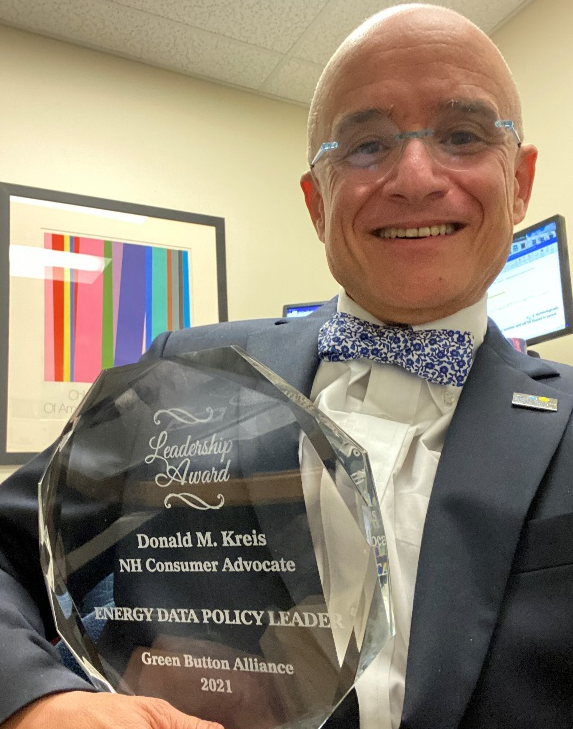 The GBA also recognized Donald M. Kreis, Consumer Advocate, New Hampshire with the "2021 Energy Data Policy Leader" award for his leadership in envisioning the benefits of a standards-based Statewide, Multi-use, Energy Data Platform for the state of New Hampshire. Mr. Kreis was instrumental, along with colleague Jim Brennan, in drafting legislation for the platform's creation, including ensuring customer data privacy will be protected and specifying the platform will be tested and Certified by the GBA to ensure all the benefits of the Green Button Connect My Data standard will be gained by users. The legislation was signed by Governor Christopher Sununu in July, 2019. Through a cooperative and collaborative process with stakeholders, a unanimous settlement agreement regarding the platform's framework was reached in May, 2021. Policymakers in other states now look to New Hampshire's model as an example when considering similar implementations in their states. The agreement is currently awaiting the PUC's approval which would enable the process of developing the platform to move forward.
The GBA thanks Mr. Syed, the team at the Ontario Ministry of Energy, and Mr. Kreis, for their industry leadership in driving forward energy policies to the benefit of constituents and congratulates them on their well-deserved recognitions.

Following the awards presentation, attendees heard from speakers from GBA member companies. Daniel Roesler, founder and CTO of UtilityAPI and Vice Chair of the GBA expertly educated on key value propositions of Green Button Connect My Data, Green Button use cases, and highlighted UtilityAPI's latest Green Button Connect My Data implementations. Jeff Hendler, CEO of Logical Buildings and GBA board member highlighted the success and expansion of Logical Buildings' GridRewards' program leveraging Con Edison's Connect My Data implementation in New York. Zoran Stojanovic, Director, Information Systems at GBA member London Hydro featured several innovative Green Button Connect My Data platform-based customer solutions and use cases, as well as co-presented with Jay Lewis, CEO of Big Data Energy Services and a GBA board member who discussed the value of Green Button data for third-party services. A recording of the the GBA's 2021 AGM can be viewed here.
---

Logical Buildings Raises $10M for National Expansion of GridRewards™
Virtual Power Plant Software
GBA member Logical Buildings has announced the close of a $10 million funding round, led by Keyframe Capital. The funding will be used to facilitate the national expansion of Logical Buildings' award-winning GridRewards™ Virtual Power Plant (VPP) software, helping real estate owners and managers to fulfill increasingly stringent Environmental, Social, and Governance (ESG) requirements. The GridRewards mobile app enables energy consumers to participate directly in VPPs, allowing them to earn them cash rewards for reducing energy usage at critical times, create outsized carbon footprint reductions, and help to prevent brownouts.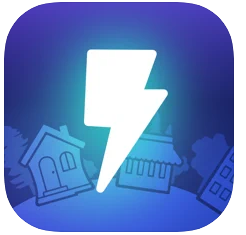 In the New York City metro area, GridRewards leverages Con Edison's AMI infrastructure via the utility's Green Button Connect My Data implementation, and is available to commercial/residential owners, as well as the 3.5 million tenants in New York City. The new funding will enable Logical Buildings to accelerate GridRewards' expansion into markets in California, Illinois, Texas, Florida, Ontario and other high-population regions. Download the free GridRewards app on the App Store or on Google Play. Follow Logical Buildings on LinkedIn.
---
Member Spotlight |
---

Utilismart is a leading provider of Meter Data Management (MDM) and utility analytics solutions. The company's diverse portfolio of solutions enables distribution utilities to transform their businesses by leveraging data-driven insights to create operational, engineering, financial, and customer service efficiencies.

With the adoption of new technologies, the electrical grid as we know it today will soon become unrecognizable. With the advancements in distributed and renewable energy resources, battery storage, and electric vehicles, distribution utilities require tools to help them understand the impact of these technologies to improve system flexibility and reliability. Utilismart utility analytics solutions address this problem by providing grid visibility, impact analysis, and planning capabilities that allow utilities to evolve, meet regulatory requirements, and exceed customer expectations by turning data into decisions.

Harnessing the Power of Big Data for Utilities
Utilismart's cloud-based modular MDM-driven applications offer an end-to-end solution enabling distribution utilities to transform into modern and efficient organizations that utilize data-driven analytics to create value for customers and improve the overall bottom line. Utility companies can now harness the power of big data and transform meter, grid, and customer data into valuable and actionable information, with low cost, high impact results, employing data science and machine learning. Utilismart solutions enable operational capabilities and efficiencies, improve system reliability, and reduce distribution system management costs and include: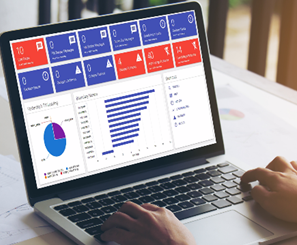 - Advanced Grid Visualization
- Rate Analysis
- Engineering Analysis
- Outage Management and Reporting
- Meter Data Management
- Consumer Engagement
- Meter-to-Cash Process Automation
- Revenue Protection
- Advanced Energy Management Portal
Embracing Data Sharing
Utilismart joined the Green Button Alliance (GBA) to support data democratization and enable the rapid development of data-dependent innovative solutions. These solutions will empower utility customers to achieve their electrification, conservation, and demand management objectives. Today's energy consumers demand more data and the ability to understand energy consumption and costs, drive and influence energy efficiencies, and justify the adoption of renewable technologies. Utilismart's active participation in GBA will help remove the energy data access barriers enabling stakeholders to identify and implement energy-saving initiatives.

Utilismart continues to develop innovative solutions to improve utility operations through its suite of MDM-driven applications unlocking the full value of smart meter investments and continuously extending the use of meter data beyond the meter-to-cash process. For more information about Utilismart solutions, visit www.utilismartcorp.com.
---
In the Headlines |
---
---
Green Button Alliance Meetings |
---
GBA's Upcoming Meetings
The GBA's next All-Member Call will be held via dial-in and web: Tuesday, 1 March at 11:00am PST / 2:00pm EST. All GBA Members are invited to attend. Participation logistics will be emailed to GBA Members.
The GBA hosts the OpenADE Task Force technical meetings—open to members and non-members alike. The next one-hour OpenADE Task Force meeting will be held Tuesday, 1 March at 12:00pm PST / 3:00pm EST. Visit https://openade.org for logistics.
For a full listing of GBA meetings and events, please visit GBA's Calendar page or subscribe to our public calendar: