Newsletter | August 2022
Date posted
August 19, 2022
Welcome New Members |
---
News & Updates |
---

GBA Certifies New Utility Energy Data Exchange Platforms as Compliant to the Green Button Connect My Data version 3.3 Standard
The Green Button Alliance, through its comprehensive Green Button Testing and Certification program, has tested and certified several new utility-provided energy data exchange platforms in the United States and Canada as compliant to the North American Energy Standards Board's (NAESB) Retail Energy Quadrant Book 21 (REQ.21) Energy Services Provider Interface (ESPI) Model Business Practices standard, version 3.3, commonly known as the Green Button standard.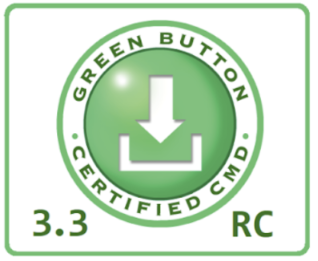 Published by NAESB in January 2020, version 3.3 of the Green Button standard includes the structure and definitions for Personally Identifiable Information (PII); revised structure and definitions for Energy Usage Information (EUI); updated security requirements; and a simplified customer authorization process. To ensure secure sharing of PII data, the Retail Customer (RC) schema of the standard enables those data from a customer's account to be carried in a single stream with a separate, parallel EUI stream linking specific meters to the PII data.
To ensure the Green Button standard is implemented correctly—and the numerous key benefits of the standard are gained by utilities, customers and third-parties—regulators are increasingly calling for Green Button implementations to be tested and certified by the GBA as compliant to the standard. For example, as part of Ontario's Regulation 633/21: Energy Data, energy providers province-wide must implement Green Button Connect My Data (CMD) and Download My Data (DMD) solutions – and certify the solutions through the GBA by 01 November, 2023.
Utilities interested in providing Green Button standards-based energy data exchange platforms should obtain the latest version of the standard, version 3.3, from NAESB prior to solution testing by the Green Button Alliance. Utilities offering Green Button solutions can pre-test their files for free using the GBA's Download My Data Validator prior to applying for Green Button Certified testing. Read more about some of the latest Green Button Certified data exchange platforms below.
---
Green Button Market Expansion, Leading Solutions, Certified Implementations Featured at DistribuTECH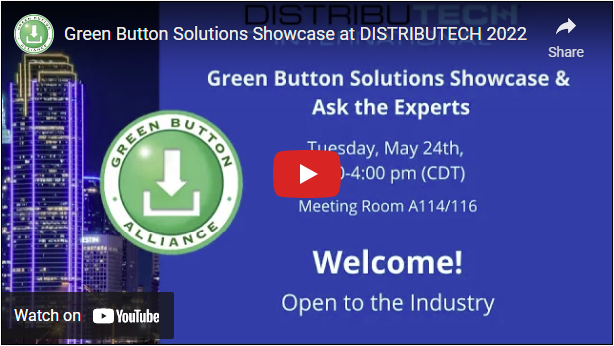 The Green Button Alliance held a "Green Button Solutions Showcase & Ask the Experts" session on 24 May on-site at DistribuTECH International in Dallas, Texas and online. Expert speakers from GBA member companies educated attendees about Green Button market expansion; leading Green Button solutions; the latest Green Button Certified utility, community choice aggregator (CCA) and municipal utility Green Button Connect My Data implementations; use-cases and new services enabled by utility-provided access to open, standards-based Green Button energy data.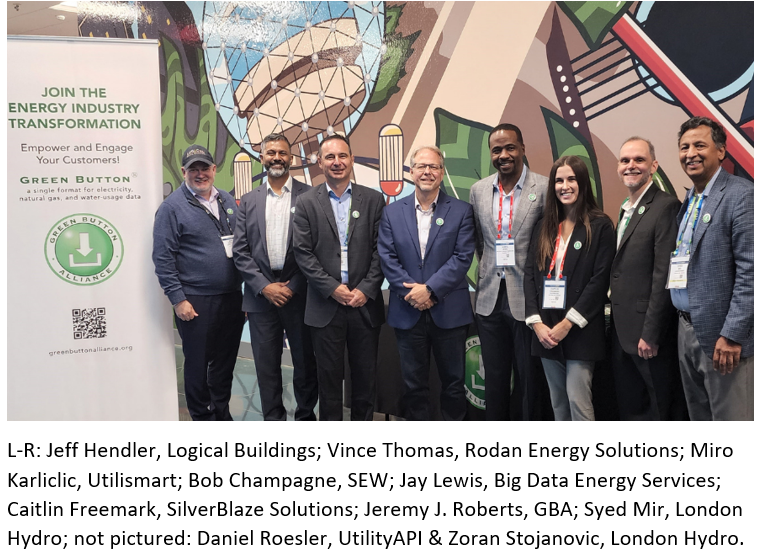 GBA Chair Syed Mir, CIO & VP Corporate Services of London Hydro and Jeremy J. Roberts, Executive Director of the GBA updated on GBA and Green Button market activities followed by featured speakers including: GBA Vice Chair, Daniel Roesler, founder & CTO, UtilityAPI; Miro Karliclic, VP Business Development & Innovation, Utilismart; Jeff Hendler, CEO, Logical Buildings; Bob Champagne, VP, Customer Experience Innovation, Smart Energy Water (SEW); Jay Lewis, CEO, Big Data Energy Services (BDES); Vince Thomas, Director of Marketing, Rodan Energy Solutions; Caitlin Freemark, former Director of Sales & Marketing, SilverBlaze Solutions; and Zoran Stojanovic, Director of Information Systems, London Hydro. Attendees learned first-hand how utilities are using, and customers are benefitting from, easy-to-use Green Button solutions that drive effective customer engagement, simplify energy management, while supporting DERs and decarbonization efforts. The GBA thanks member companies Big Data Energy Services, London Hydro and Smart Energy Water for sponsoring the session. A recording of the GBA's "Green Button Solutions Showcase & Ask the Expert" is available on the GBA's website.
---
Silicon Valley Clean Energy's Data Hive First to Receive Green Button Connect Retail Customer Certification; Certification Paves Way for Easier Adoption of Climate-Change Fighting Technologies
On 17 May, the GBA tested and certified the Silicon Valley Clean Energy (SVCE) Data Hive as compliant to the NAESB's REQ.21 ESPI standard, version 3.3, commonly known as Green Button Connect (GBC) with Retail Customer (RC). The SVCE Data Hive, built by UtilityAPI, is the first GBC implementation to obtain the version 3.3 certification with Retail Customer components. The Retail Customer schema of the standard ensures the secure sharing of Personally Identifiable Information (PII), information linking specific meters to the data. This update, along with other updates to streamline the customer authorization process, paved the way for the more widespread adoption of the GBC standard that is now underway across the United States and Canada.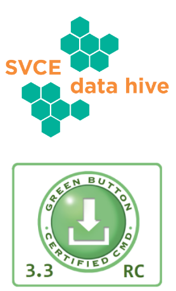 "The recognition of the Data Hive as Green Button Connect Retail Customer compliant validates the secure data sharing process that the tool offers," said Justin Zagunis, SVCE Director of Decarbonization and Grid Innovation Programs. "And having an easy data sharing mechanism in place for both the installer and the customer helps our community continue transitioning away from fossil fuels to clean electricity."
"SVCE is leading the world in showing what a grid-of-the future can be. The Data Hive getting GBA-certified reinforces that SVCE's innovations are safe and secure," said Daniel Roesler, founder and CTO, UtilityAPI.
Following the GBA's certification of SVCE's Data Hive implementation, the GBA tested and certified additional UtilityAPI-developed Green Button Connect My Data implementations for National Grid in upstate New York, Fort Collins Utilities in Colorado, and Peninsula Clean Energy in California.
---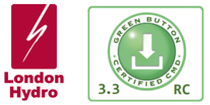 London Hydro First Utility to Meet Ontario Energy Data Regulation
On 18 May, London Hydro's Green Button Connect My Data platform was certified as compliant to the NAESB's REQ.21 ESPI standard version 3.3 for both energy usage data and retail customer data through the GBA's comprehensive testing and certification process. London Hydro became the first Canadian utility to meet Ontario Regulation 633/21: Energy Data which requires nearly all regulated electricity and natural gas utilities in the province to provide Certified Green Button standard-compliant Green Button Connect My Data (CMD) and Download My Data (DMD) energy data access implementations to their customers by November, 2023.
"As demand for access to energy data and customer account information continues to skyrocket, customers and application developers will look to utilities to provide Certified standards-compliant Green Button CMD solutions," said Syed Mir, CIO & VP, Corporate Services, London Hydro. "Green Button Certified solutions remove barriers to accessing energy data, assure a seamless and secure data-sharing experience for customers, and speed the implementation of new energy efficiency services and clean energy projects."
---

ERTH Power's New Green Button Connector Tool Certified as Compliant to NAESB's ESPI version 3.3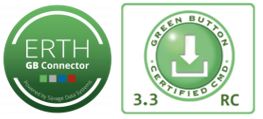 On 24 June, ERTH Power Corporation's Green Button solution, the ERTH GB Connector, developed in partnership with Savage Data Systems and NorthStar Utilities Solutions and using the utility's existing SilverBlaze Solutions portal, successfully achieved the Green Button Alliance's Certification as compliant to the NAESB's ESPI standard, version 3.3, commonly known as the Green Button standard. The certification places ERTH Power among the first utilities in Ontario to certify to version 3.3 with Retail Customer components.
---
GBA Member Companies Attract New Funding Rounds!
29 June: Cleartrace announced $20 million in financing led by ClearSky with investment from Brookfield Renewable, EDF Energy North America, Tenaska, and Exelon to help companies reach decarbonization goals. Funding to accelerate growth for Cleartrace's advanced carbon and energy management platform serving real estate portfolios, financial institutions, data centers and renewable energy suppliers.

9 June: OhmConnect announced a $55 million Series D fundraising round, to help stabilize the grid and ensure a clean energy future. Lead investors include ClearSky, Sidewalk Infrastructure Partners and Telus Ventures. Investors also include Carrier and SunPower, as well as other investors. The funding will enable expansion into new markets, accelerate residential energy flexibility, and help prevent blackouts.

18 May: UtilityAPI announced $10 million in Series A funding led by Aligned Climate Capital, with participation from ZOMA Capital. The Series A funds will be used to revolutionize the energy market by boosting utility data access to generate energy savings at scale. The funds will serve to expand the company's ability to satisfy the exploding market for utility-level data sharing platforms.
---
In Remembrance: Barry Haaser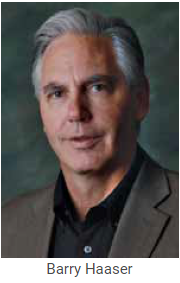 It is with heavy heart we share that Barry Haaser, co-founder and first Executive Director of the GBA, from its inception in 2015 until his retirement in 2018, passed away on 26 March 2022 at the age of 62. Barry was instrumental in establishing the GBA, organizing an effort between government, the private sector, several associations, and industry experts to form a unified alliance to lead the Green Button data access and sharing standards effort.
Well-known in the high-tech, energy and industry standards sectors, Barry also served on the U.S. Department of Commerce's Renewable Energy and Energy Efficiency Advisory Committee, and previously was an officer on the Board of Directors of the Smart Grid Interoperability Panel (SGIP), and served as a member of the North American Energy Standards Board (NAESB). He also provided executive leadership and start-up expertise to the OpenADR Alliance, LonMark International, the Wi-SUN Alliance and several other associations through his firm Lakeview Consulting Group. We will miss Barry greatly for his leadership, eternally-positive personality and his kindness. A Celebration of Life was held in Morgan Hill, California on 12 June 2022.
---
In the Headlines |
---
---
Green Button Alliance Meetings |
---
GBA's Upcoming Meetings
The GBA's next All-Member Call will be held via dial-in and web: Tuesday, 13 September at 11:00am PDT / 2:00pm EDT. All GBA Members are invited to attend. Participation logistics will be emailed to GBA Members.
The GBA hosts the OpenADE Task Force technical meetings—open to members and non-members alike. The next one-hour OpenADE Task Force meeting will be held Tuesday, 13 September at 12:00pm PDT / 3:00pm EDT. Visit https://openade.org for logistics.
SAVE THE DATE: The GBA's 2022 Annual General Meeting (AGM) + Green Button Meet-Up will be held Thursday, 17 November in-person and online, in Ontario, Canada.
For a full listing of GBA meetings and events, please visit GBA's Calendar page or subscribe to our public calendar: