Back to Events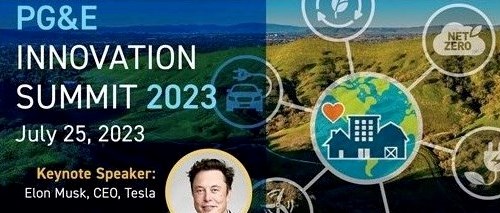 PG&E Innovation Summit 2023
PG&E's Innovation Summit will be held July 25 in San Ramon, CA & Virtually.
Tuesday, July 25, 2023
Event Details
PG&E's Innovation Summit 2023:
Elon Musk will join PG&E CEO Patti Poppe on July 25 for PG&E's first-ever Innovation Summit, where they will discuss the breakthrough thinking, radical collaboration and swift execution required to bridge the gap between today's energy system and California's electrified and decarbonized future.

The high-powered speaker lineup also features
Darryl Willis (Corporate Vice President, Energy & Resources Industry at Microsoft);
Annette Clayton (CEO, Schneider Electric North America); L
eslie Rich (Senior Consultant, Loan Programs Office, U.S. Department of Energy (DOE);
Robert Chapman (Senior Vice President, Energy Delivery and Customer Solutions; Chief Sustainability Officer, EPRI); and
Ron Snedic (Senior Vice President, Corporate Development, GTI Energy).
Overview:
Addressing the challenges presented by electrification, decarbonization and climate change will require concerted and sustained efforts across sectors. At PG&E, we are building a climate-resilient energy system for California's future. We can't build the system alone: We seek breakthrough thinking and radical collaboration combined with our new, swift innovation playbook to push the boundaries of what is possible with the technologies of today.
What to Expect at the Summit:
Pacific Gas & Electric Company's Innovation Summit 2023 brings together entrepreneurs and thought leaders, national research labs and government agencies, utility peers, and policy makers to collaborate in addressing the most challenging issues facing the energy system today.
PG&E recently published our first
R&D Strategy Report
, presenting nearly 70 problem statements for which we are seeking novel solutions that can be deployed at scale to drive impact across our energy system. We are investing significantly in building the strong foundational capabilities needed to enhance the customer experience and deliver on the objectives in our True North Strategy and Climate Strategy. We invite creative thinkers to help us achieve these ambitious goals. Innovation from a broad range of stakeholders will be needed to bridge the gap between the system of today and that of the future. The PG&E Innovation Summit 2023 is the singular collaborative forum for experts across sectors to dive into the need for additional R&D and novel approaches for electrification, decarbonization, and resiliency in the face of climate change. The event will be hosted by
Patti Poppe
, CEO of PG&E, and
Jason Glickman
, Executive Vice President, Engineering, Planning and Strategy, PG&E, with additional keynote speakers to be announced. This one-day event will take place in-person at the Roundhouse Market & Conference Center in San Ramon, California with a virtual attendee experience for all sessions for those unable to attend in person.
Registration is required to attend.
View PG&E's News Release:
https://www.pge.com/en_US/about-pge/media-newsroom/news-details.page?pageID=3090ffe0-e3e7-461c-a465-433f3cb6b1c3&ts=1689280226265
For More Information: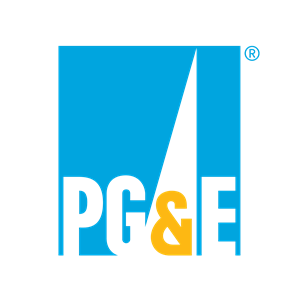 Pacific Gas & Electric