Back to Events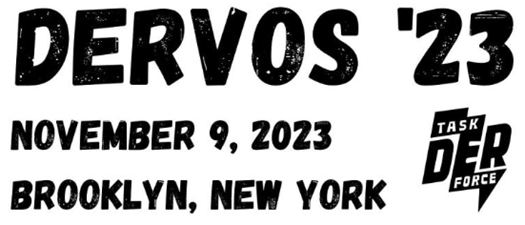 DERVOS '23
DERVOS '23 will be held on November 9, 2023 in Brooklyn, New York.
Thursday, November 9, 2023
Event Details
Mark your calendars for Brooklyn, NY on November 9.
Last year we sold out of tickets pretty quickly so make sure to grab yours today so you don't miss out on the fun. RSVP today here.
Agenda:
Stay tuned, we've got some exciting sessions in the works.
And if you have any cool ideas to add to our cool ideas, definitely hit us up. (nicole@dertaskforce.com)
Location:
NEWLAB
This space is seriously dope. It's home to over 800 entrepreneurs, engineers, and inventors, solving the world's biggest challenges with leaders and experts across industries and cities. It really fits our vibe and we think you'll love spending the day with us there.
Agenda:
Same deal as the agenda, stay tuned for some very cool, very nerdy, very DERTFy speakers announced soon and if you have any recs, we will always take them into consideration.
Sponsors:
DER Task Force is run exclusively by volunteers, so we rely on your help! If your company would like to sponsor this event and see us work endlessly to advocate for distributed energy policy across the country, contact us about some unique sponsorship opportunities.
# # #