Back to Events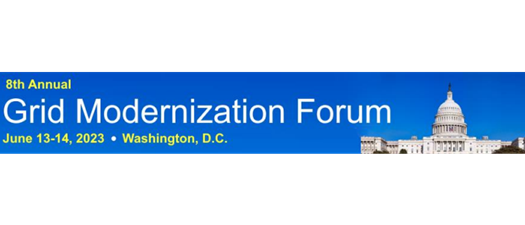 8th Annual Grid Modernization Forum - 2023
Grid Modernization Forum will be held June 13-14, 2023 in Washington, D.C.
Tuesday, June 13, 2023
to Wednesday, June 14, 2023
Event Details
Technology Advances and business strategies for ensuring grid resiliency, power qualityand integration of distributed energy resources

The 8th Annual Grid Modernization Forum, June 13-14, 2023 in Washington, D.C. will closely examine lessons learned to date by industry leaders pushing the frontiers of grid modernization and reliability.
Key technology innovators and executives will come together to share perspectives on how best to leverage AMI investment, engage the customer, and take the smart grid to the next level. Case studies of improved network performance, resiliency, outage restoration, and distributed energy resource (DER) integration will be examined with an eye toward determining best practices and technology advances for today's energy ecosystem. As in previous editions, this will be a unique opportunity
to network with top industry professionals who are leading the way toward effective grid modernization and the integrated, interoperable, resilient energy network of tomorrow.
Topics to be Addressed Include:
Decarbonizing the energy mix: Success Strategies for Utilities
Best Practices and Strategies for Enhancing Grid Reliability
Energy utility digitization and decentralization
Distributed energy resources: Meeting consumers' needs
Use cases for long-duration storage on the future grid
Managing grid modernization complexity: Establishing visibility and control
Asset health monitoring and predictivemaintenance using AI
Electric vehicle charging infrastructureand its impact on the grid
The role of microgrids in grid resiliency, reliabilityand modernization
Market drivers, trends, opportunities andchallenges for utilities
Next-gen smart meters and AMI as the grid evolves
Emerging technologies and tools for the future grid
New strategies for load management and demandresponse going forward
Status and implications of various gridmodernization programs across the U.S.
Managing and integrating energy storage anddistributed resources on the grid
The Utility of the Future and the next-generation smart grid
and more